The Old Ways
This book is a compilation of stories from the author as he walks through the old road in the English countryside. Some of the stories are interesting, while others fall flat on deaf ears. The book description has lot of metaphor that I didn't pick up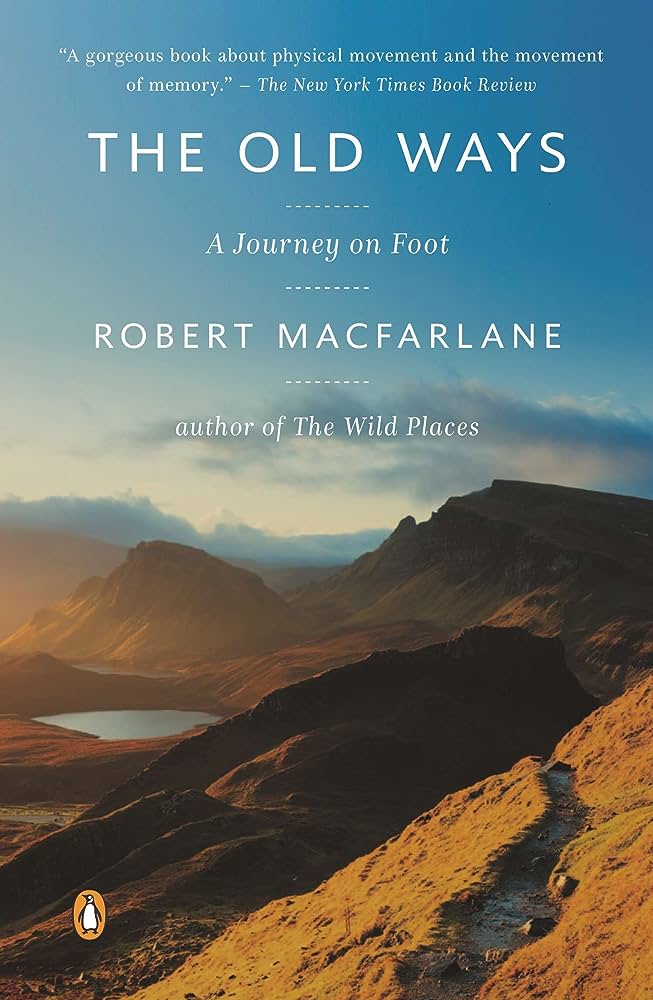 ---
The Book in 1 Sentence
A book about old roads that says lots of words to say very little at all.
Brief Review
This book is a compilation of stories from the author as he walks through the old road in the English countryside. Some of the stories are interesting, while others fall flat on deaf ears. The book description has lot of metaphor that I didn't pick up when reading the description and it didn't meet my expectations.
Why I Read this book
I don't remember why, but I know that the book isn't what I thought it was.
In-Depth Review
As I listened to this on Audible, I will say that the narrator's voice and at 1.5 speed (Which is the speed that I listen to all my books) was the perfect tone for when I run and just made my mind wander, which is the entire point presented in the first chapter of the book about the benefits of going for a walk. Your mind wandering allowing it to expand and see new things. This exact lesson is also mentioned in Jay Shetty's Think Like a Monk and after listening to this book, I believe and experience the same thing.
Outside the mini spiritual event of this books natural oratory tone, the book was either middling or interesting and that statement alone is bound to cause a fight compared to the reviews of the book. People loved this book and I am honestly not sure why as far as content.
Let me say some nice things first. The writing and the stories are honestly very interesting and I was intrigued by the ones that caught my attention, like a walk through parts of Palestine or Ireland. The writing itself was well done and I provided a great picture of what the author had seen or experienced on that walk.
However, that is where all the nice things end with the exception of a couple other interesting stories. The book itself is the ramblings of an old man who liked to look at trees. That is honestly an insult to this book as it is more than that and the author is attempting to provide a justification about why you should walk your world and learn it, but the stories are no more than chatting with your neighbor. I don't mean neighbor like Mr. Feeny in Boy Meets World or Wilson in Home Improvement with wise presentations of events, I mean like the old neighbor that has lived in the same house for the last 50 years and has told the same stories for eons to anyone who lives next to him.
I will say, that this book might have been better received by me if I lived in the UK or Ireland as I truly believe that the Isle are some of the most beautiful places in the world. My time in Scotland is a trip that still speaks to me years later and that is why I liked the book. I learned more about that place, but it was mildly interesting.
How my life / behavior / thoughts / ideas have changed as a result of reading the book.
When the weather here breaks 100+ degrees every day, I want to go to the lake country and do some hikes, in fact I am planning on doing some in Colorado here relatively soon. While that in and of itself isn't terribly outside my normal life, what is is the idea that I might skip my headphones and just walk and let me mind wander.
Rating
I am giving this book a 5. Minus the occasional story I couldn't tell you what this book was about or than the roads that are no longer around or are walked by a certain set of people. For a naturist like my friend's sister's husband who is a Park Ranger for the National Forest Service, it might be a wonderful book (I'll reach out and ask him if he has read it and liked it), but for a nerd like me that wants adventure, these stories fell flat. The language of the book is wonderful with the old Galic words floating through, but the book is sitting square in the middle.